Venom: 10 Of His Most Hilarious Quotes From The Comics
Venom remains one of the most popular fan-favorite Spider-Man villains in the entire Marvel universe, and these 10 quotes show his sense of humor.
You Are Reading :Venom 10 Of His Most Hilarious Quotes From The Comics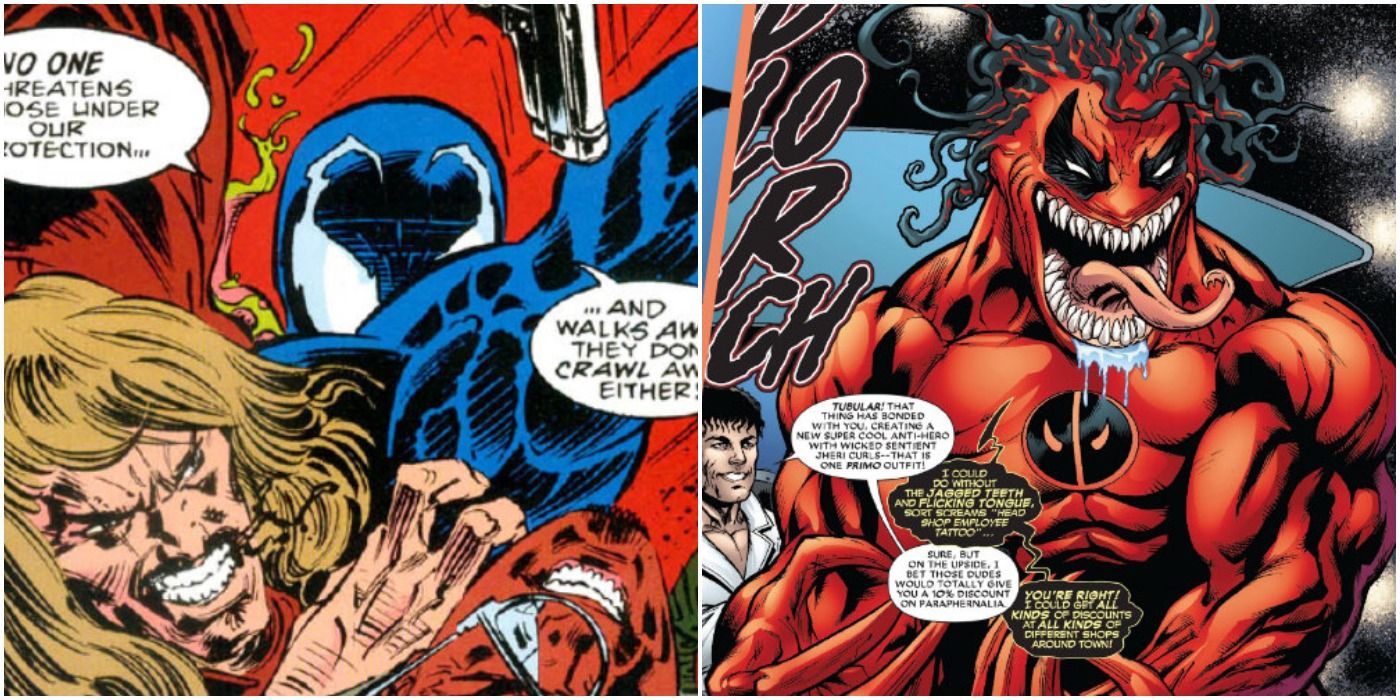 Venom remains one of the most popular fan-favorite Spider-Man villains in the entire Marvel universe. His popularity has grown since his debut in the 1990s, culminating in a brand new Hollywood film series with a sequel on the way. It's all in a day's work for this terrifying villain turned anti-hero.
The character has had a lot to say over the years, mostly regarding devouring the brains of his hapless victims. There's more to him than that, which is where this list comes into play. Here are ten of Venom's most hilarious quotes from his comic book appearances.
10 "No One Threatens Those Under Our Protection And Walks Away! They Don't Crawl Away, Either!" (Venom: The Mace #1)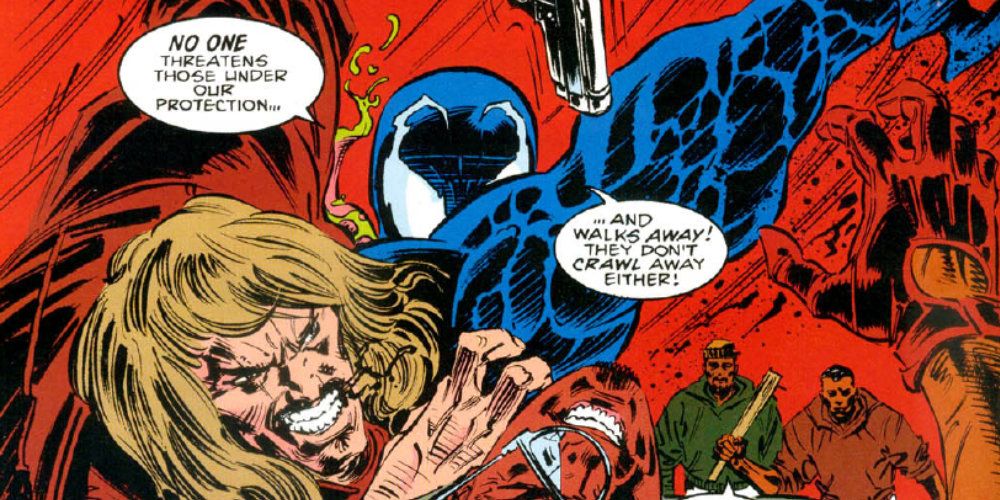 Venom continued to protect the citizens of San Francisco for quite some time, and he never missed an opportunity to deal out some deadly punishment to anyone who crossed the line. The opening of the first issue of The Mace found Venom right in the thick of it as he took down a group of thugs threatening his people.
He uttered this all-too-true quote about his penchant for ripping, tearing, and popping his enemies in a variety of twisted and violent ways. Venom's rage was insatiable, but at least he directed it towards a good cause, even if the result was inherently evil.
9 "Don't You Losers Ever Learn…That If You Mess With Venom…You Get Your Brains Eaten!!" (Venom: Finale #1)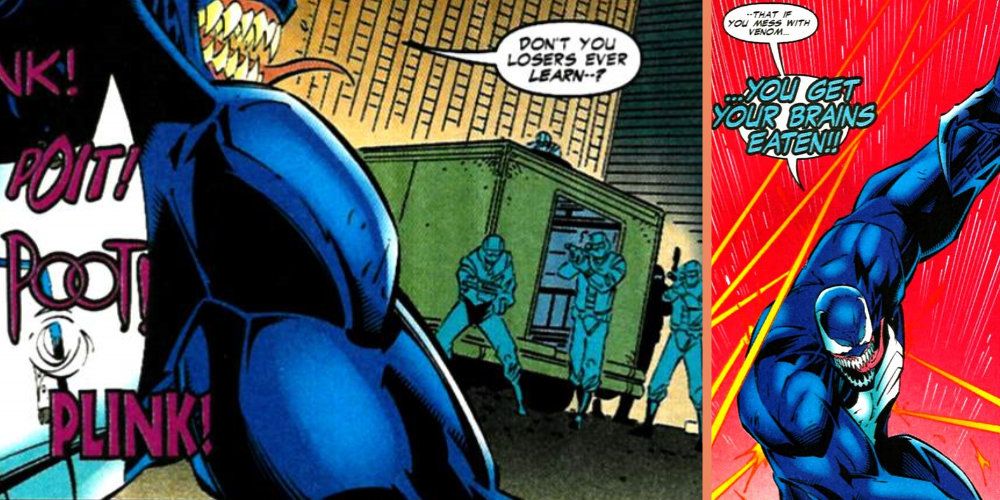 Eddie Brock found himself in prison at the start of Venom: Finale, but it wasn't long before he managed to break out. The method was painful but effective enough. It involved forcibly ripping a thermite detonator out of his own body and using it to blow the main door open.
Once free of his confines, Venom made a violent escape to the street level and caught the local media's attention. As Peter Parker and Mary Jane sat back and watched the horrid events unfold on TV, Venom was busy uttering this quote as he gleefully cut through his former captors.
8 "Ooo, Decisions, Decisions! What Should We Break First? Your Nose, Your Neck…Or What Passes For Your Spine?" (Venom: Lethal Protector #6)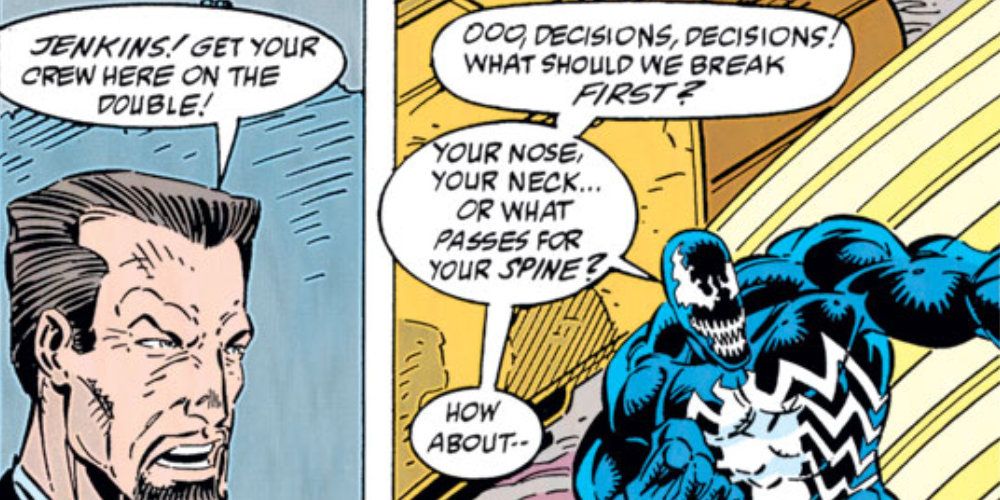 Roland Treece earned Venom's ire in the excellent Lethal Protector when his plans threatened an underground colony of humans living away from society's upper crust. He viewed himself as their savior and protector and vowed to do whatever it took to keep them safe.
Spider-Man reluctantly teamed up with Venom to assist, which didn't go as smoothly as planned when Venom lost control. When he confronted Treece, he let loose this quote, which summed up his mood.
7 "You Call This Incapacitating? The Only Damage I'm Sustaining Is This Nasty Hangnail From Ripping Your Cute Little Heads Off!" (Venom: License To Kill #3)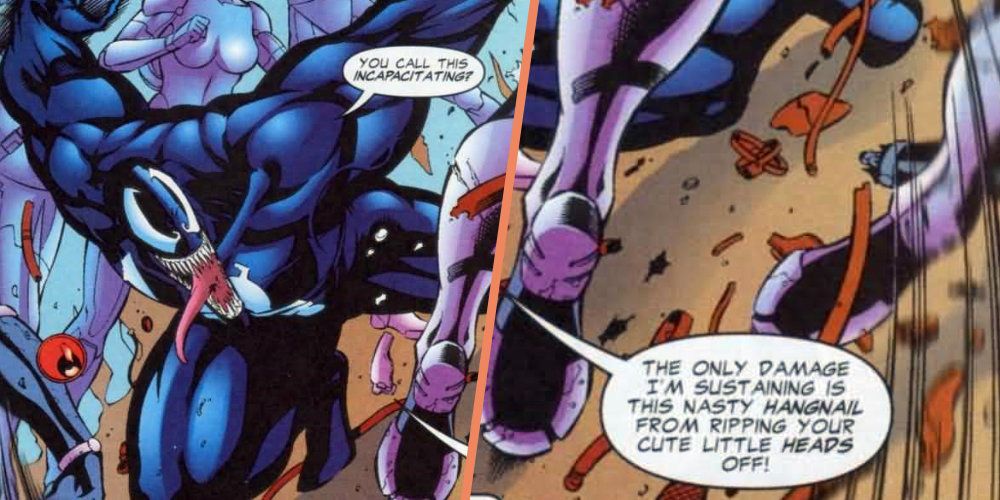 Venom enjoyed a new career when the U.S. Government issued him with a license to kill, provided he engaged in a series of top-secret missions. It was right up his alley, allowing him to do exactly what he did best – maim and destroy.
He eventually found himself opposite a group of android killers led by a massive mechanical giant named Kostya. Unfazed, Venom taunted him with this quote while slicing and dicing his android soldiers to ribbons.
6 "You Deserve To Get Your Brains Scooped Out With A Runcible Spoon!" (Venom: Carnage Unleashed #2)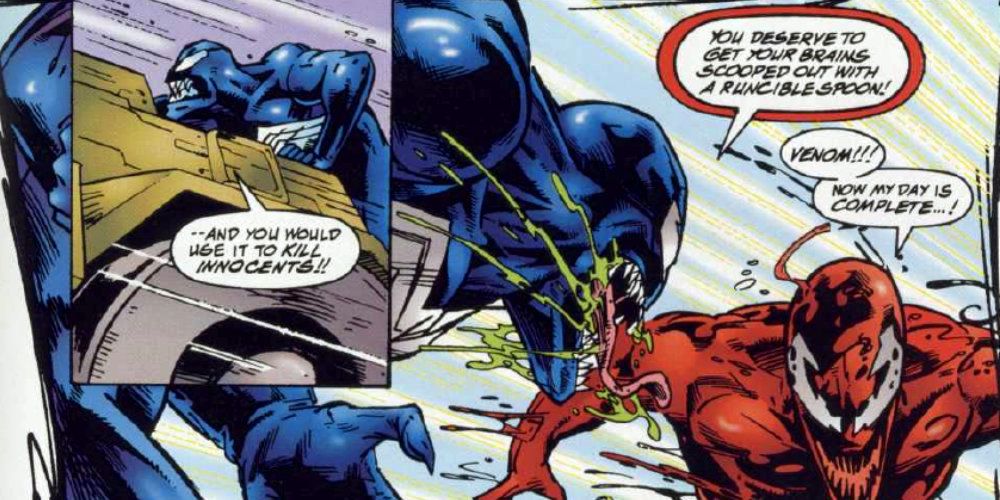 Leave it to Venom to get descriptive with his intentions, especially regarding his much-loathed offspring Carnage. When the latter broke out and fired up a path of mayhem and murder throughout the city, Venom stepped in to confront him and take him down.
Disgusted by Kasady's misuse of the alien symbiote that had bonded with him, Venom chastised him for using it to kill the innocent. His next quote was hilariously straightforward and left a lot to the imagination.
5 "Must Be Off Our Nut! Risking Our Skins To Save A Hemoglobin-Happy Zombie With A New York Attitude!" (Venom: The Enemy Within #2)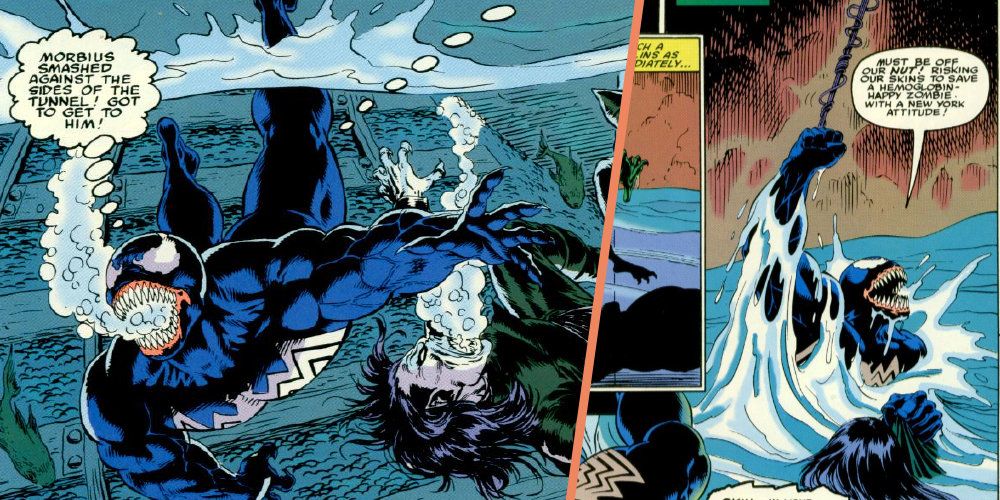 Venom reluctantly teamed up with Morbius, the living vampire, to take down a mysterious horde of demonic goblins that had invaded San Francisco. Also on the scene was the nightmarish Demogoblin, though he too wasn't too happy about these little monsters running amok.
During a goblin attack, Morbius was severely injured when the floor gave way, and the two were carried out via a strong sewer current. He delivered this hilarious quote about the irony of saving a guy like Morbius, even though the two were probably more alike than not.
4 "I Could Do Without The Jagged Teeth And Flicking Tongue, Sort Screams 'Head Shop Employee Tattoo.'" (What If Venom Possessed Deadpool?")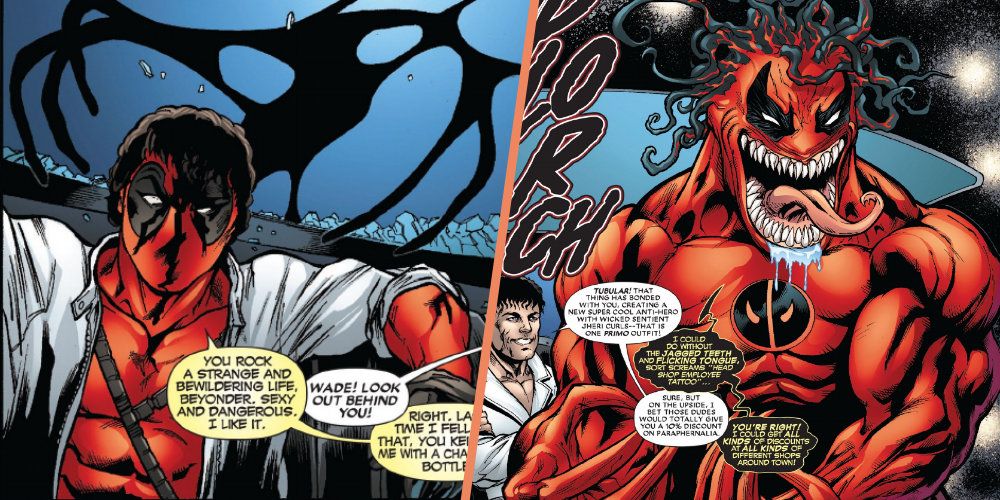 This side-splittingly hilarious tale paints a much different picture of how the alien symbiote might have ended up had it bonded with the wrong guy. All the elements start (basically) right, with Peter Parker trying his best to get the symbiote off of himself.
Eventually, it throws Peter Parker to his doom (while he calls out to Mephisto for help) and bonds instead with none other than merc with a mouth Deadpool. He responds characteristically by remarking about the suit's aesthetic drawbacks because, of course, he does.
3 "The World Will Owe Us A Debt Of Gratitude For Hanging Your Gastro-Intestinal Tract Out To Dry!" (Venom: Carnage Unleashed #2)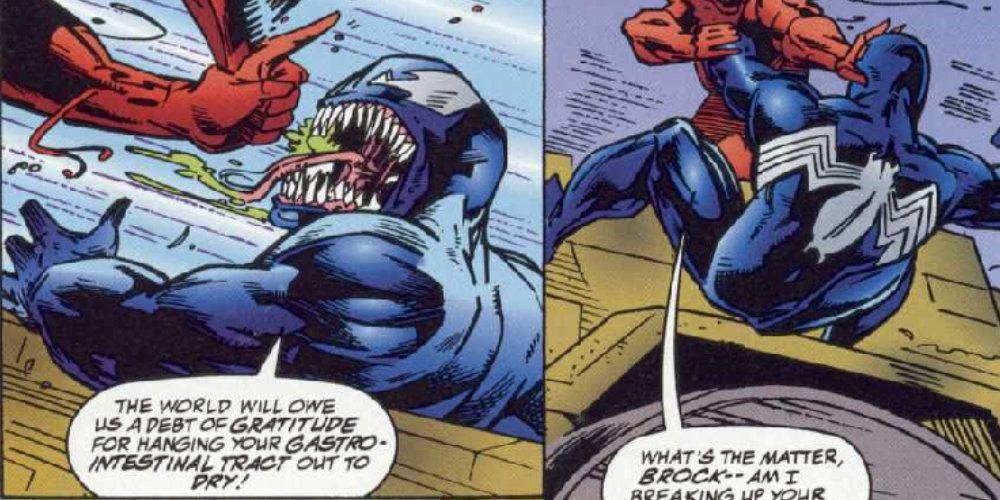 How Venom manages to maintain the stamina and energy to fire off such detailed one-liners whilst engaged in a heated battle is anyone's guess. Still, one can chalk it up to the alien symbiote's amplification abilities. Nevertheless, this quote is one of the funniest.
Venom took another pot-shot at Carnage while battling him on top of a speeding truck. After trading blows, Carnage got the upper hand by kicking him off the edge. Venom held on long enough to utter this quote to everyone's great amusement.
2 "Venom Man! Venom Man! Friendly Symbiote Venom Man! Spins A Web, Any Size! Catches Thieves! Makes Them Die!" (Venom: Sign of the Boss #1)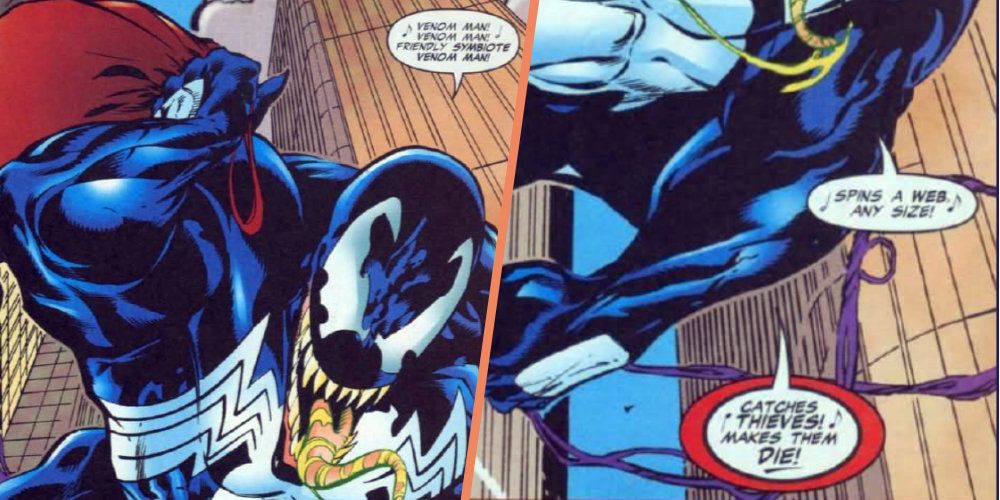 This was clearly one of Venom's more hilarious quotes and a nice way for the writers to simultaneously break the fourth wall. Here, Eddie Brock played fast and loose with the Spider-Man mythos by bastardizing the iconic theme song of the 1960s cartoon.
The best part? It summed Venom up to a T. Not only was he able to perform all of Spider-Man's tricks, but he was a hero fighting against evil, even if he felt no hesitation in slaughtering them mercilessly. To Venom, it was all in a day's work.
1 "Hi! We're Venom! You're Safe Now. No, Please. There's No Need To Thank Us. Your Joy Is Reward Enough, And Sends Me Leaping Happily On My Way!" (Venom: Lethal Protector #1)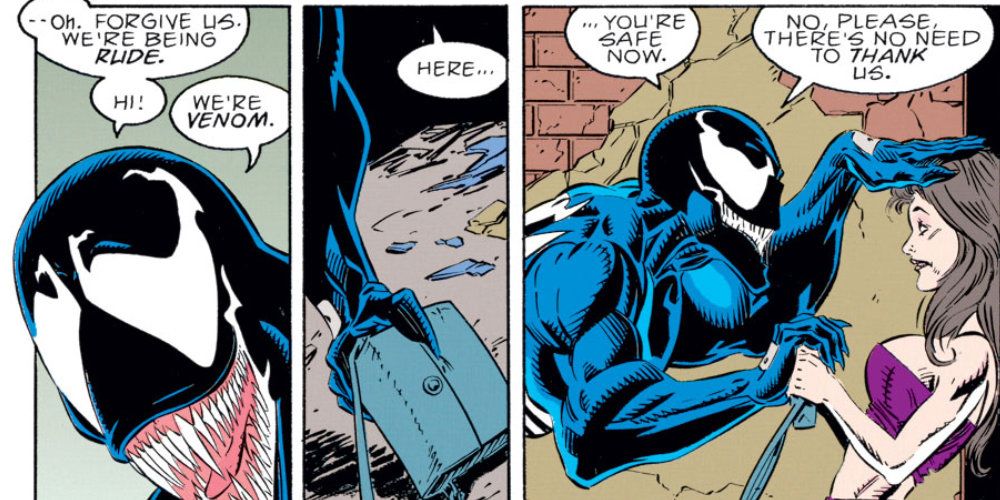 After striking an uneasy truce with Spider-Man, Venom set out on his own for a new lease on life that involved him moving far away from New York City. He eventually settled in San Francisco, where he had a chance to dish out some brutal punishment on the city's violent criminal element.
His first kill (presumably) involved attacking a would-be rapist who cornered a woman in an alley. Venom got quite verbose as he slaughtered the criminal before turning to the traumatized victim and patting her on the head whilst uttering this quote. Needless to say, it didn't soothe her fears.
Link Source : https://www.cbr.com/venom-funny-comic-quotes/