Crisis on Earth-X Teases a Multiversal Love Affair
Love — or, perhaps, lust — is in the air for two Arrowverse characters from different Earths in the Crisis on Earth-X crossover event.
You Are Reading :Crisis on EarthX Teases a Multiversal Love Affair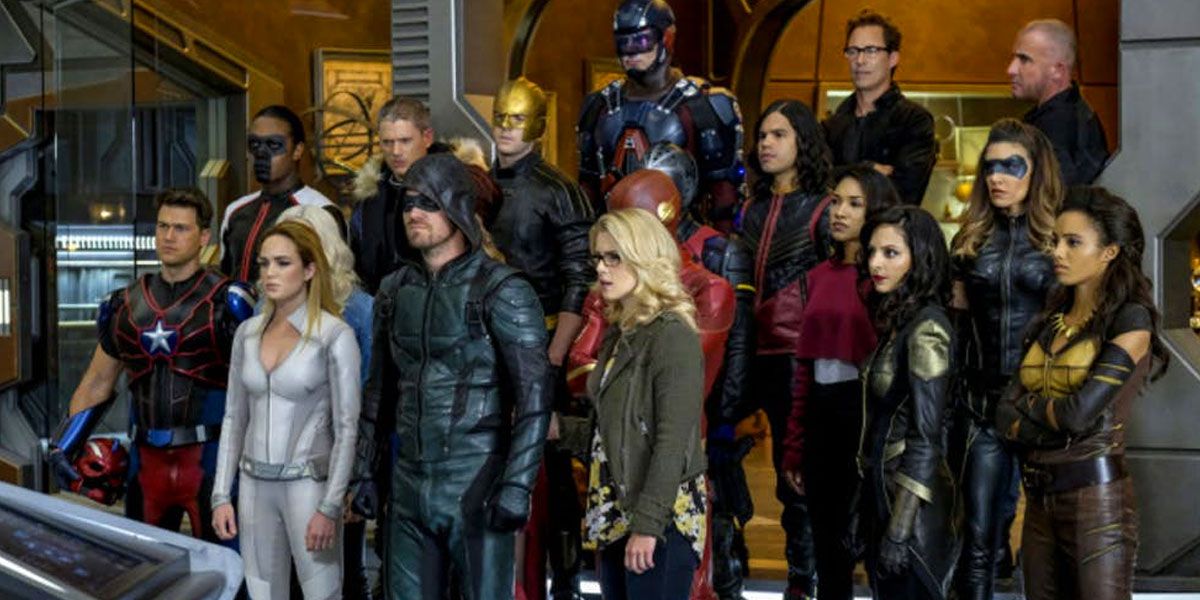 SPOILER WARNING: This article contains major spoilers for "Crisis on Earth-X, Part 2," the second episode of this year's Arrowverse crossover.
Love — or, perhaps, lust — is in the air for two Arrowverse characters from different Earths. Across the first two episodes of "Crisis on Earth-X," this year's Arrowverse crossover, Earth-1's Sara Lance and Alex Danvers of Supergirl's world hooked up during the rehearsal dinner, sparking some existential doubt on Alex's part.
Sara approached Alex while the latter was taking shots of scotch at the bar. "Somebody who drinks like that is looking to make something go away," Sara said by way of greeting.
RELATED: Arrowverse: Crisis on Earth-X's First Casualty Is…
Alex observed Sara take a shot. "Yeah, well, and what are you looking to make go away?" she shot back. "Nothing. I just like the taste of scotch," Sara retorted, which made Alex smile.
"Fair enough," Alex admitted, then raised her glass in a mock toast. "I just called off my engagement." When Sara made a sympathetic noise, Alex continued, "Yeah. So being here? Well, it brings up a lot." With that, she took another shot.
"What? Did you catch him cheating?" Sara asked. "Her," Alex corrected, piquing Sara's interest. "It wasn't anything like that," she explained. "We just wanted different things. Wish I had realized that sooner."
RELATED: Arrowverse: Crisis on Earth-X May Have Introduced Barry & Iris' [SPOILER]
"So let me guess… being at the rehearsal dinner for the world's most perfect couple is probably the last place you want to be," Sara said. "That stings a little, yeah," Alex responded. Sara then raised her glass to Alex, saying, "To making things go away." Alex clinked her glass against Sara's and added, "To loving the taste of scotch."
Soon after, Sara and Alex were shown outside, making out furiously. The next morning, Alex woke up in bed next to Sara, much to the former's dismay. She tried to scoot out without surreptitiously and met up with her sister Kara, who had been worried sick. When Kara asked where she had been, Alex tried to lie and laugh it off, only for Sara to blow her cover.
"I did. I did like… two times. Three times! Oh my god, what did I do? Do you know what I did?" Alex said in response to a pointed look from Kara. "I had a one-night stand! Kara, it's horrible! It's terrible! It's such a guy thing to do. I am a horrible, terrible guy."
RELATED: Crisis on Earth-X: Why Earth-X's Nazis REALLY Invaded the Arrowverse
"No! You're a healthy, single lady," Kara laughed. "You just had a really great time at a wedding. There's nothing wrong with that! You didn't do anything wrong."
Nevertheless, Alex continued to feel guilty about her one-night stand with Sara, which admitted to Kara in "Part 2." "This whole thing with Sara was a mistake," Alex confided. "I mean, this was all kinds of wrong. Waking up with a strange woman in a strange bed… I have never had a one-night stand before, and this whole thing has just got me spinning. I mean, what if I made a huge mistake? Look, I know I want to have kids, but Maggie was real. I mean, what we had was real. Now, with everything, I just… I chose to let her go. I chose that. I mean, what was I thinking?"
RELATED: Crisis On Earth-X Reveals Nazi Prometheus' Shocking Identity
Kara tried to reassure Alex by telling her she had learned to be true to herself, but Alex continued to be doubtful. "What if I was wrong?" she asked, and Kara gave her a hug in response.
Alex and Sara's fling probably won't amount to much more than what it was: a one-night stand. Between Alex's guilt and the fact that Sara helms a time traveling ship in another universe, that's probably the best for both that it stay that way.
This year's four-part crossover "Crisis on Earth-X" will air across two nights, beginning Monday, Nov. 27 with Supergirl and Arrow (on a special night for one week only) and concluding Tuesday, Nov. 28 with The Flash and Legends of Tomorrow.
Meagan Damore has served as a CBR Editor since January 2015, though she got her start as a staff reviewer in 2013. She discovered comics thanks to the plethora of movies and television she grew up with, like Batman: The Animated Series, Spider-Man, the original X-Men film trilogy, X-Men: Evolution and Justice League Unlimited. She picked up her first comic in high school and fell instantly in love with the medium. Later, she took her love for pop culture with her to college, where she earned a Bachelor of Arts from Suffolk University and a Masters Degree in Literature from University of Massachusetts Boston. She loves to apply her education to her work writing editorials and conducting interviews. You can catch her writing on Agents of SHIELD, the Arrowverse and more right here on CBR. You can also find her on Twitter at @metathor.
Link Source : https://www.cbr.com/crisis-on-earth-x-sara-lance-alex-danvers-romance/