Chainsaw Man Creator's New Short Story Collection Reveals Four Titles
Two compiled volumes of short stories created by Chainsaw Man and Look Back creator Tatsuki Fujimoto will be released in Japan this fall.
You Are Reading :Chainsaw Man Creators New Short Story Collection Reveals Four Titles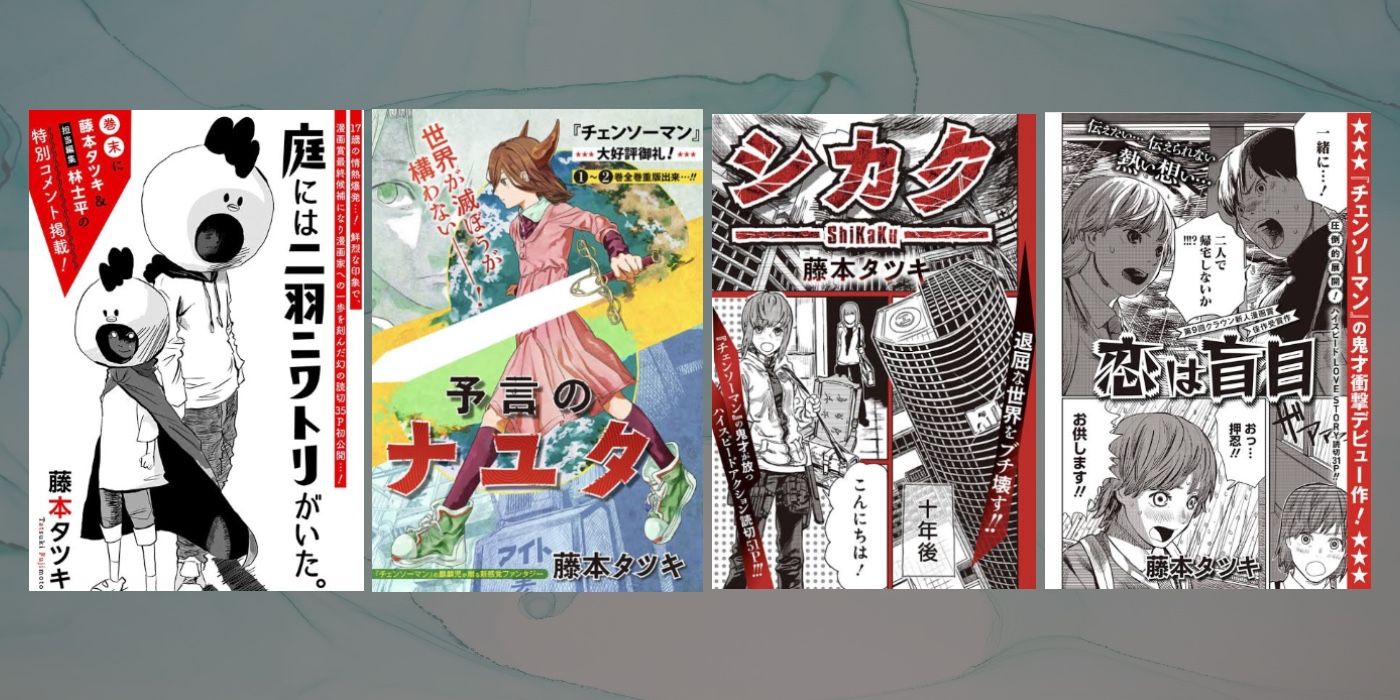 The first of two short story collections from Chainsaw Man creator Tatsuki Fujimoto has revealed which titles it will include.
Rin Shibei, an editor for Weekly Shonen Jump, revealed on Twitter that publisher Shueisha will compile Fujimoto's earlier works into two short story collections, the first of which is entitled 17 – 21, while the second will be 22-26. As the titles vaguely suggest, the first book will be feature one-shot manga created by Fujimoto between the ages of 17 and 21, while the second book will feature more stories from the author's twenties. The first collection will contain four stories.
お待たせ致しました。 藤本タツキ先生初短編集刊行決定❗️ 10月4日『17-21』 11月4日『22-26』に発売です✨ 『ルックバック』は9月3日発売‼️ 藤本タツキ先生のJCが3ヶ月連続刊行✨ 短編集収録作品の詳細は続報をお待ち下さい㊙️ご予約大歓迎です🌟 何卒宜しくお願いします🌎🎁 pic.twitter.com/4J6Di3iCN3
The first of the four stories, Niwa ni wa Niwa Niwatori ga Ita, takes place in a world where aliens have taken over the world, and the last two humans are forced to blend in with the Earth's new inhabitants by donning cheap chicken costumes. The story is a one-shot manga that was originally published on the digital manga platform Shonen Jump+. The second story, Sasaki-kun ga Judan to Meta (sometimes localized as Sasaki-kun Stopped A Bullet,) is about a student who idolizes his teacher and must pull off an impossible feat to save her when a gunman enters his school. The collection will also include the romance Koi wa Moumoku (Love Is Blind), and Shikaku, the story of an assassin who is hired by a vampire who has grown tired of eternal life and needs help ending it.
17-21 was released in Japan on Oct. 4, while the second collection will be released on Nov. 4. An official English release for either collection has not been confirmed as of this time, but many of Fujimoto's recent works, including Chainsaw Man and his most recent one-shot manga story, Look Back, have been localized into English and distributed internationally by VIZ Media.
Fujimoto is currently one of the rising stars of the manga industry, with his most recent release, Look Back, garnering almost universal critical praise and pulling in over 2.5 million views within its first 24 hours of availability on the Shonen Jump+ platform. Fujimoto's best known manga, Chainsaw Man, is currently on break following the completion of the story's first part in December 2020. Chainsaw Man currently has over 11 million copies in circulation. An anime adaptation of the series is currently in production at MAPPA, the animation studio that is also producing the Jujutsu Kaisen anime, as well as the final season of Attack on Titan. A release date for Part 2 of the Chainsaw Man manga and the premiere of the anime series have yet to be announced.
Link Source : https://www.cbr.com/chainsaw-man-short-story-collection-four-titles/