Black Manta: Eisner-Winning Chuck Brown Delves Into the Man Behind the DC Villain
CBR took part in a roundtable discussion with writer Chuck Brown about his new Black Manta series, and the plans he has for the Aquaman villain.
You Are Reading :Black Manta EisnerWinning Chuck Brown Delves Into the Man Behind the DC Villain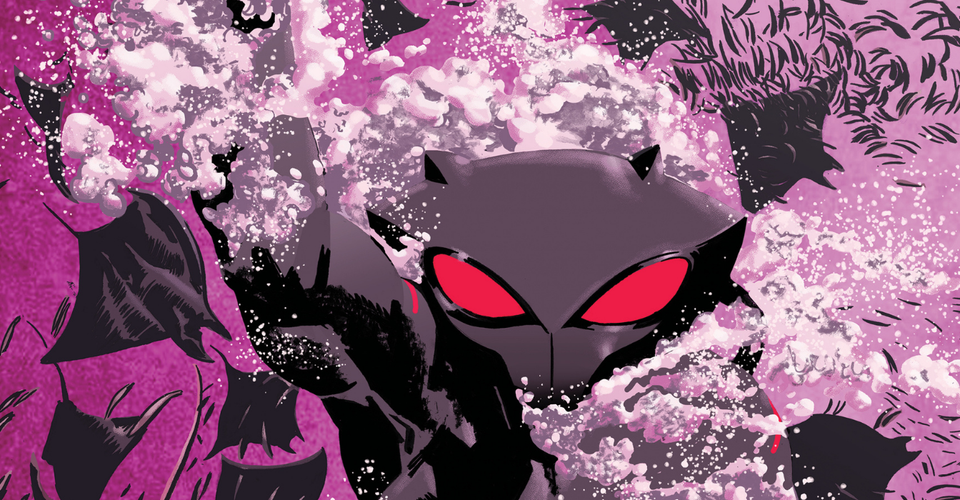 Award-winning writer Chuck Brown is no stranger to comics, having written and co-created Bitter Root and On the Stump for Image Comics. The Eisner award winner has also worked on Black Panther and Punisher for Marvel Comics, as well as contributed stories to both Superman: Red and Blue and the Aquaman 80th Anniversary 100-Page Super Spectacular. In his latest DC project, Brown has returned to the world of Aquaman to pen Black Manta, a limited series focused on one of Atlantean's most persistent enemies. The series, which launches Sept. 7, aims to provide a fresh take on the classic DC villain.
CBR had the chance to participate in a roundtable discussion with the Eisner and Ringo Award winner where he spoke about Black Manta's overall identity and his relationship with his partner and supporting character, Gallous the Goat. Brown also discussed adding new characters to Black Manta's mythos and shared that while he's not writing a story about redemption, he hopes to portray the character as more than a one-note, armored villain.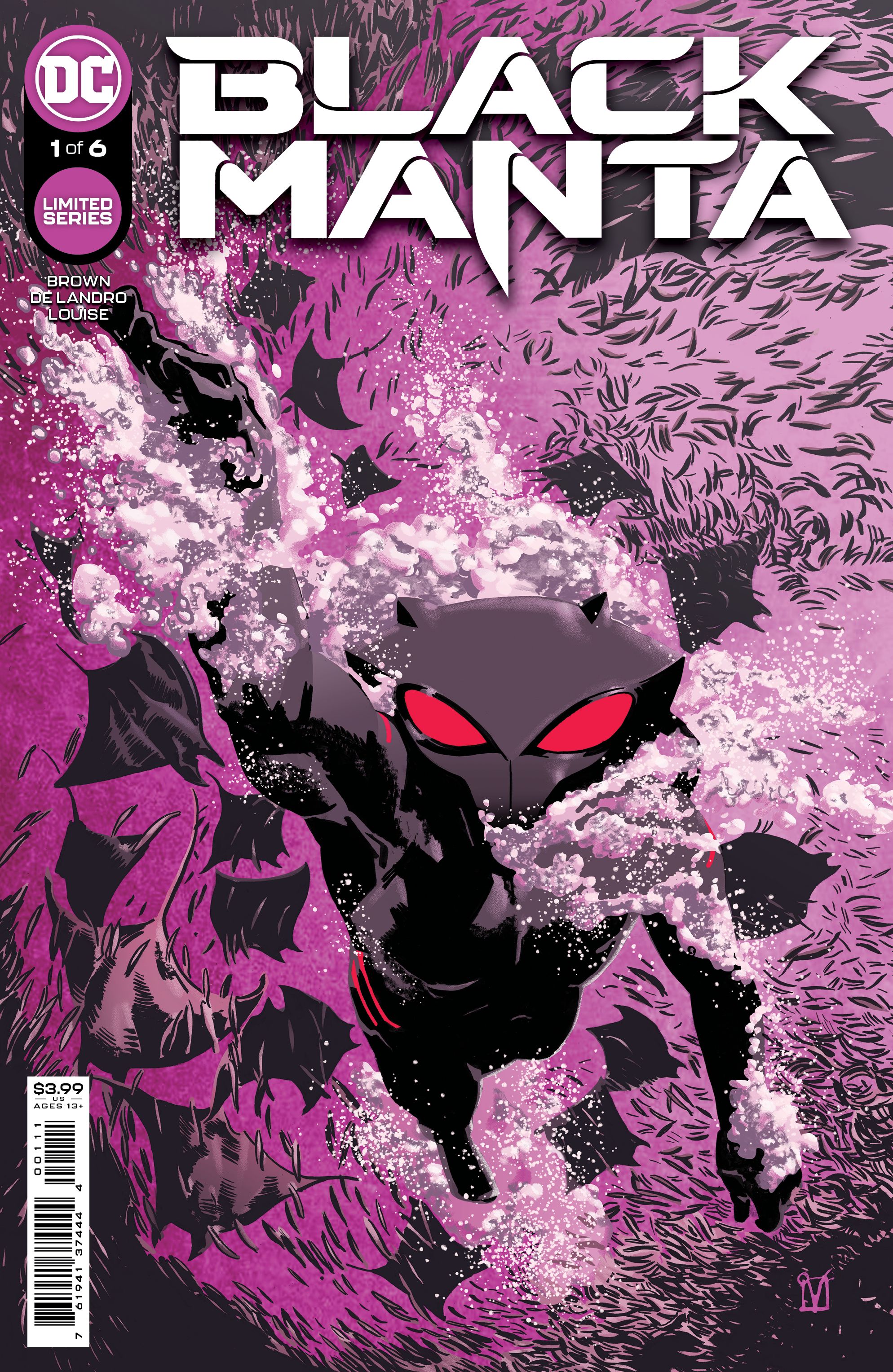 Brown clarified in the discussion that his series is not a redemption story for Black Manta. "I'm just showing his evolution, how people can change, and whether it's for the best or the worse," Brown explained. "New people can come in your life and affect you in ways you never expected. I've been fascinated by this character for a long time, and I wasn't just looking for a villain to redeem. This is meant to be more like a reflection of our own lives, and our own journeys. I'm trying to show what pain and change can do to you and where it can take you."
When asked about the addition of new characters such as Devil Ray, Torrid, and Gallous the Goat, and what it means to the overall DC mythos and his approach to storytelling, Brown replied, "It was an amazing honor to be able to add characters to the DC mythos. But it does not affect how I write a script. It would drive me nuts if I thought about that kind of thing. I'm very proud of what we've done here, and I try to put the rest of that stuff in the back of my mind."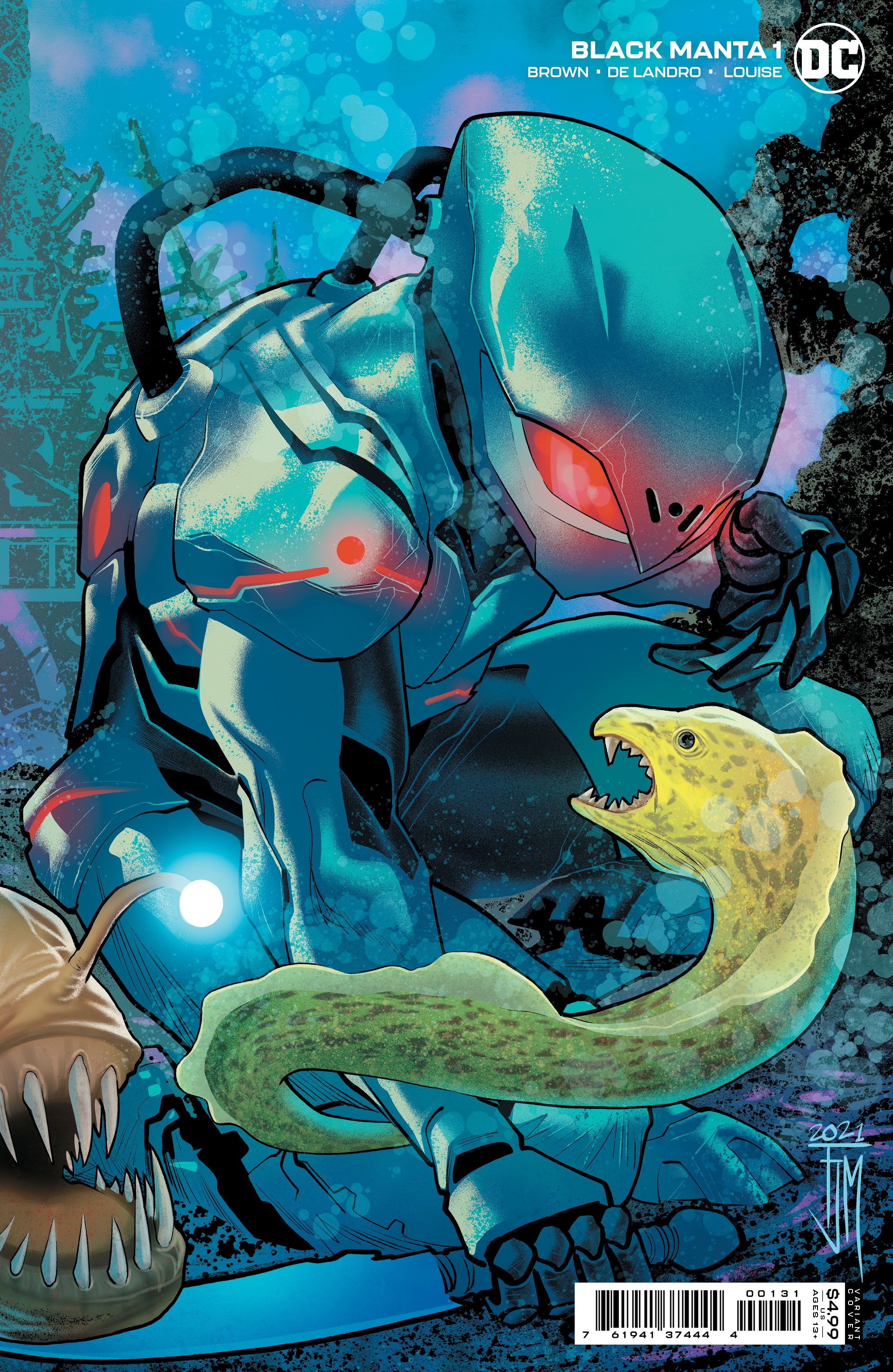 Brown also opened up about exploring the pirate side of Black Manta's character. "His pirate side is very important, but I didn't dwell on it too much," the writer explained. "Black Manta #1 was a great opening to his pirate roots and the core of the character. We revisit that a couple of times throughout the issues, but the series is mostly about the journey of this character as he tries to solve this mystery that he has to deal with."
Black Manta appears to be going through an identity crisis in the first issue of the limited series, and Brown addressed this when asked about the topic. "He's definitely a villain, but he's also a human being," Brown replied. "There are certain characters in the story who act as a moral compass. He's also trying to deal with his own heritage and his personal mission in life, as well as things that he's done to people in the past and how it's affected him and the current situation he is facing… Without giving away any spoilers, of course."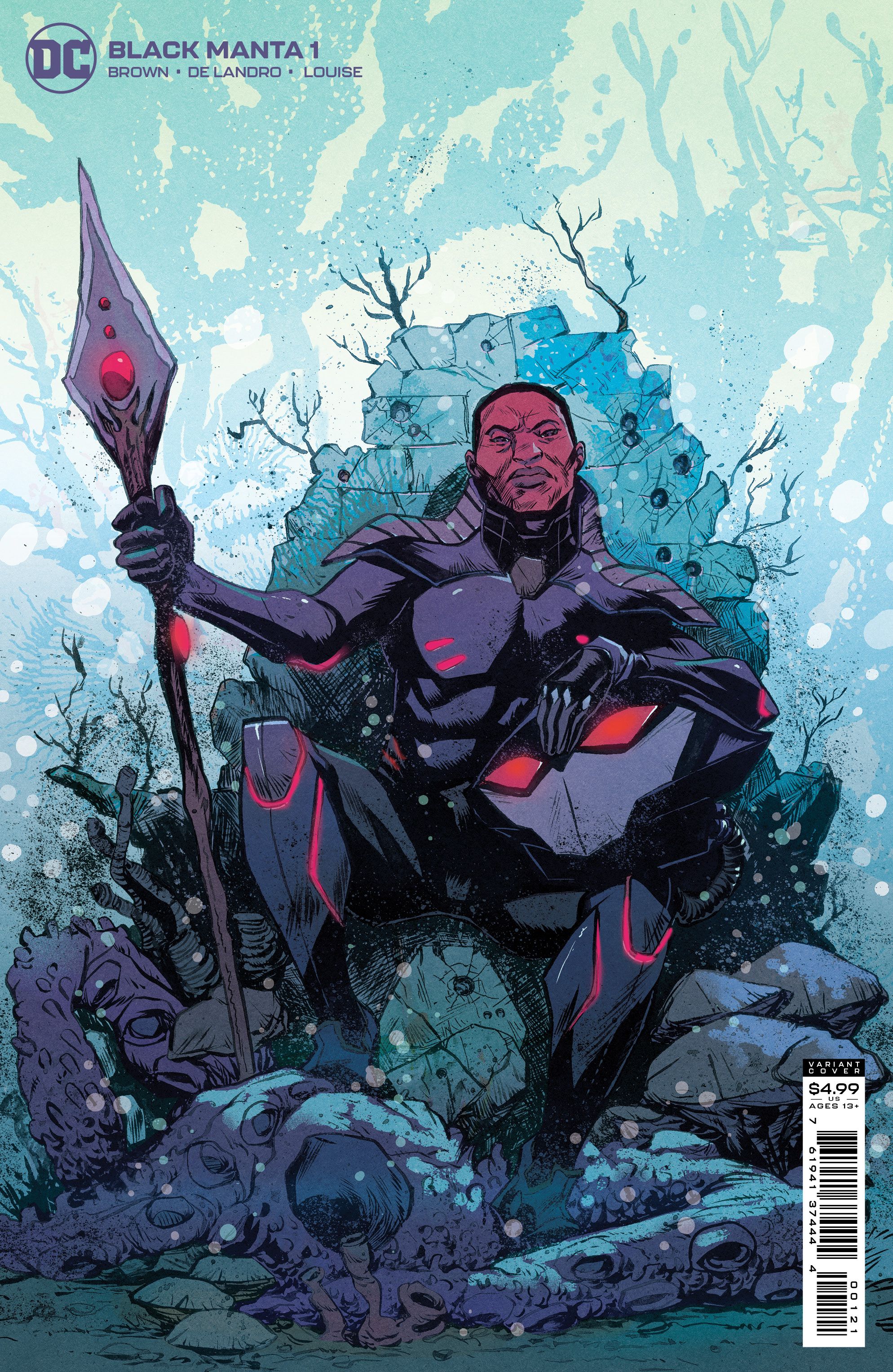 In response to how difficult it is to separate Black Manta-the-man from Black Manta-the-villain, Brown responded, " I love villains. Sometimes when I'm writing the script I may go a little too far. I thank God for supporting characters when that happens because they help to bring the man inside the Black Manta armor to the forefront, and keep me from making things a little too raw and too dark. That's a huge part of the role Gallous plays. She helps to maintain the balance of the character, which is something he needs."
Brown also opened up about the depiction of Black Manta in the recent DCEU film, Aquaman. "I love the way he was portrayed," he said. "I was honestly a little apprehensive in the beginning, but it was done so well. Black Manta and his father were amazing. I loved the story of his grandfather, who was an escaped slave and became a sea pirate in order to survive. That just blew my mind, and I loved that aspect of his story. I thought everything about him in the movie was amazing, and it just fueled my obsession with the character even more."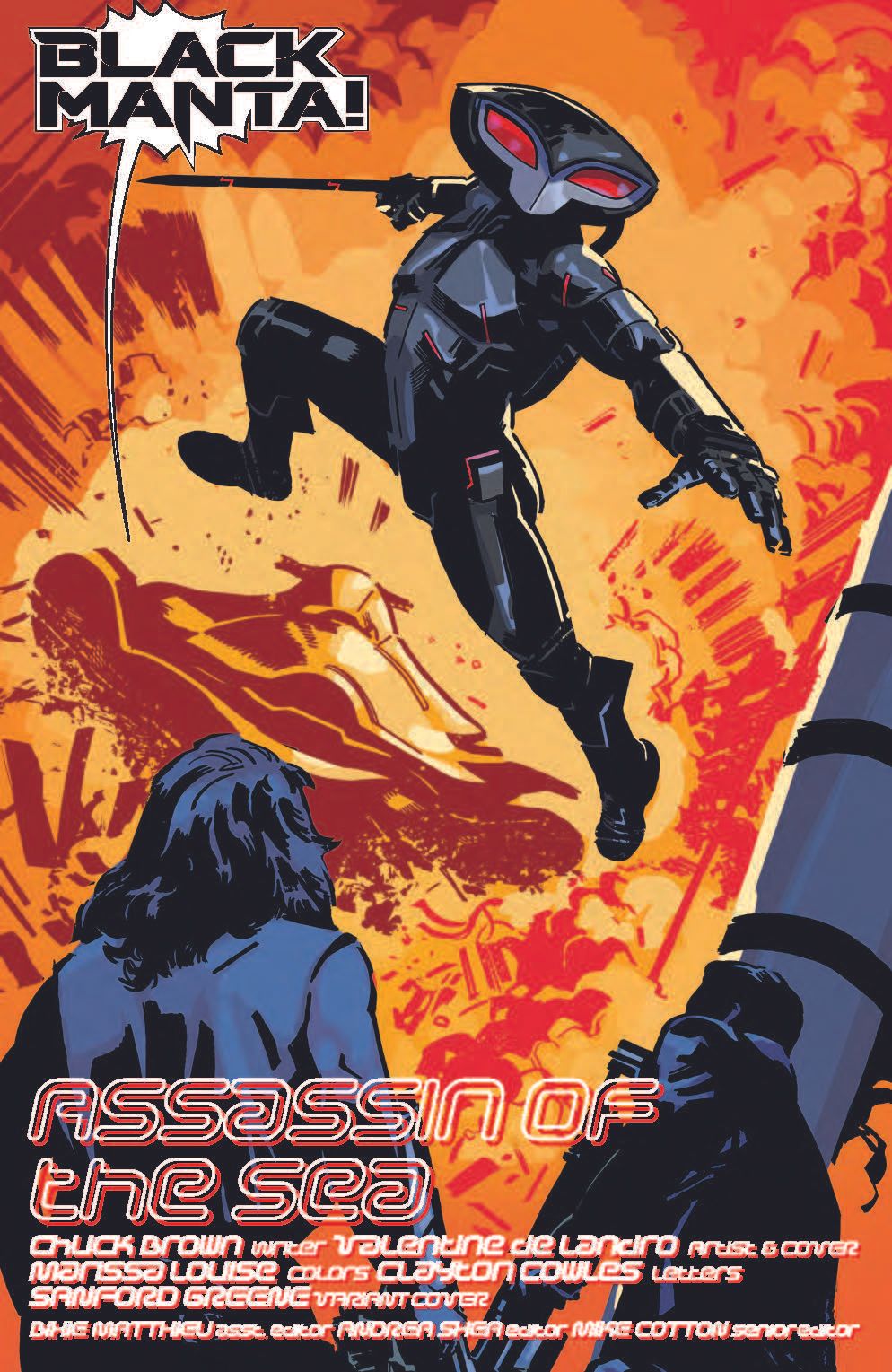 In response to the question of the nature of Black Manta's relationship with Gallous the Goat, Brown replied, "Their relationship is all business. She's like his protege in a sense. Although neither of them would admit it, he is like a father figure or a mentor to her. He feels a need to protect her, although again, neither one of them would ever admit to the true nature of their relationship. It's in their best interest for the world around them to simply see them as business partners. They are both careful to maintain that image."
Finally, in response to a question regarding the Black Manta story he wrote in the Aquaman 80th Anniversary 100-Page Super Spectacular and how that story relates to the limited series, Brown replied, "That story is a one-shot, a prequel to what is happening in the series. You don't have to read it in order to dive into the new series, but it is definitely a continuation of that story, in which Gallous and Manta face off against some terrifying creatures."
Black Manta #1 is by Chuck Brown, Valentine deLandro, Marissa Louise, and Clayton Cowles, and is on sale Sept. 7 from DC Comics.
Link Source : https://www.cbr.com/interview-chuck-brown-black-manta/